From manufacturer to you...
We work very hard, with our vast experience, in order to provide you better products, better delivery times, better prices. For the time being, we "only" have gabions (gabion baskets, mattresses, sacks), rockfall protection netting, landslide protection systems, erosion control products, geosynthetics, chainlink fencing solutions, welded panel solutions, mobile fences, razor wire fences (helical & flat-wrap), artifical green fences...etc. We are also very glad to offer you full service from manufacturing to installation, so your demand is fully satisfied.
We can also assist you in designing phase using gabion systems for revetments, weirs, groins, channel lining, retaining walls, bridge abutments, culvert protection, marinas, landscaping, seawalls, erosion control, landscape, river training, soil protection, wingwalls, rockfall, aprons, flood control, counterforts, dykes, structures, road protection, siltation
We follow closely the progress in technology, we try to improve our service quality everyday, in order to keep our promises to our clients. Our motto, be better today than yesterday. Also we know "better together" with you.
News
New Technical Sheet on air!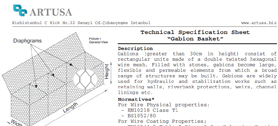 Clear, short, brief and just necessary informative Gabion...more ┬╗
Products
Gabions, Rockfall Protection Systems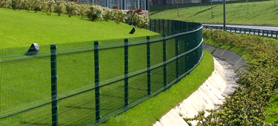 We are here to supply you Gabion Baskets, Gabion Mattresses, Gabion Sacks, Chainlink Fencing Products, Hexagonal Mesh (double twisted), Rockfall Protection Systems, Debris Flow Protection, Razor Wire Fencing, Artificial Leaves Green Fencing and many more products and accessories.
more ┬╗
Contact Us
Artusa Construction and Industries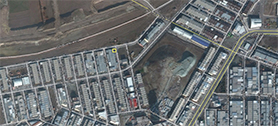 Address: ─░vedik OSB 24.Cd 2273 Sokak No:19 Yenimahalle
06378 ANKARA / TURKEY
Tel: (+90)312 215 43 47
Fax: (+90)312 215 43 38
Email: artusa@artusa.com.tr
more ┬╗